As a provider of SaaS, eCommerce, or other online services, you are likely familiar with the Internet blame game that happens when customers experience issues accessing your service. Unfortunately, the first reaction is often to point the finger at your services without considering other potential causes.
However, most customers don't understand the complexity of keeping busy web services up and running 24/7. In reality, the problem may be their own internet service and not yours.
It can be frustrating to lose customers due to their own unreliable internet services. It's even worse when disgruntled customers post negative experiences online, inaccurately pointing the finger at your company's reliability when the real culprit is their own faulty internet connectivity. Why not educate them for free?
So why not educate them for free?
Enter OutagesIO.com, a platform that provides consumers with a view of how their internet service and provider are performing. OutagesIO can help educate your customers and assist them in better understanding what's happening with their internet.
The majority of consumers do not realize that the majority of their internet problems are local, typically not widespread, and likely not with your online service.
With OutagesIO, customers can obtain a free community-level report that identifies where internet problems are occurring. This report can help determine whether the issue is with their local network, their provider, or beyond.
The process is simple, requiring a quick three-step installation of a monitoring agent on a PC. The agent runs on Windows, Linux, ARM, and Pi devices and is also available as an optional hardware device.
Once installed, customers can access a dashboard that provides additional information such as the frequency of outages, start and end times, outage length, average outage times, and related data.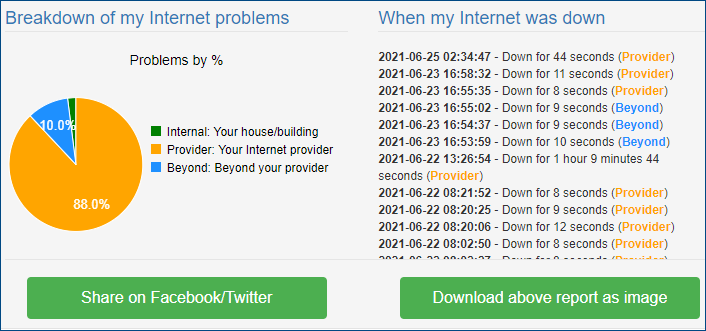 Customers can also share the performance of their service with others to compare and potentially obtain assistance from their local provider.
By looking at their reports, customers can determine whether the issues were with their local provider or seek out large-scale outage report sites if the problems were not local.
Those who crave more details can upgrade to an inexpensive plan that provides much more information. Members can also compare their reports with their neighbors who use the service which could aid them and the local internet provider.
Additionally, OutagesIO offers a free consulting and analysis service for towns and communities that experience ongoing internet problems.
Encourage Your Customers to Try OutagesIO
The goal is to educate consumers that most issues are not with the services they are attempting to access but with the internet itself. The more members who are monitoring, the greater the chance that negative forum posts will be debunked by someone who knows what actually happened.
A simple joint effort
Encourage your customers to try OutagesIO and share their reports to help them better understand what is truly happening with their internet.
When they can see what's going on, they will be less likely to blame your service while having the power to identify and fix their internet connection issues. In turn, more members assist us in improving our service while also identifying how we may be able to assist consumers with our free reports.
We will, of course, assist members who ask questions in our own forums, so you won't have to waste time on that.
It's a win-win scenario for both you and your members. There are no costs to your company, and you have nothing to lose but the finger-pointing and blame.
About OutagesIO
OutagesIO is owned and operated by Echo Networks LLC. The owners have been in the online business for almost 30 years. OutagesIO itself has been online for several years now, helping home consumers, small businesses, and even enterprises to get more reliable Internet services and to create accountability for problems.
Our blog contains a number of success stories and testimonials by both businesses and members that are or have used OutagesIO.
Our About us page shares information about our background and goals with this service.
And if you'd like to learn even more about us and our past, the Echo Networks page offers just that and more.
If you're interested, please use the 'reach out to us' link at the bottom of the site. Visit www.outagesio.com to learn more and start helping your customers better understand their internet connectivity issues today.