Welcome to the Internet blame game
If your company offers a SaaS, eCommerce or other site, it's a fact that at some point, your customers will blame your service if they cannot reach it before considering their own Internet connection.
While all networks and online services suffer occasional problems, most consumers don't understand what goes into maintaining complex network environments to keep them running around the clock. Their first response is to blame whoever is in charge of their technology or the service they are trying to reach.
Losing customers because their own Internet services are unreliable is frustrating. Even worse is when unhappy customers post and share negative experiences online, falsely pointing the finger at your company's reliability instead of where the blame firmly belongs, their spotty Internet connectivity.
Why not educate them at no cost?
OutagesIO.com is a service that gives anyone the ability to see how their Internet service and provider are performing. It gives non technical consumers a view of something they could never see before, how this paid service is performing. 
We offer a free community level report that shows where Internet problems are happening, whether it's on their local network, with the provider or beyond. 
It takes a simple three step process to have a monitoring agent installed on a Windows PC and from that point on, the mystery is gone. The agent also runs on Linux, ARM and Pi devices and is available as an optional hardware device. With our hardware agent, the agent is self contained, self updating, on the job 24/7 using less than one amp.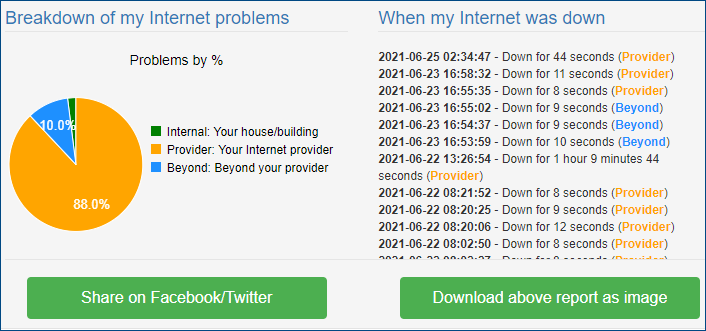 A similar image to the above in each members dashboard can be downloaded and shared on any social network or even with the provider when trying to get help.
Additional information is provided in the dashboard with details such as frequency of outages start, end time and length of each, average times of outages and related data. When Internet problems happen, members can take a look at their reports to learn if the problems were with their local provider and if not, can seek out large scale outage report sites if none were local.
Of course for those that want more details, there is plenty to be found.
If neighbors use the service, everyone gets an even clearer picture by comparing their reports which could help them and the local Internet provider.
In fact, we offer a free consulting and analysis service for towns and communities that suffer ongoing Internet problems. Check this link for more details.
The point is, it helps to educate consumers that most of the problems are not with the services they are trying to reach but with the Internet itself. The more members monitoring, the better chance that negative forums posts will be squashed by someone knowing what really happened.
The solution: A simple joint effort
Help us get the word out by sharing our consumer service, encouraging your customers to try OutagesIO and have them share their reports to help them better understand what is really going on with their Internet.
When they are able to see what's actually happening, they will be less likely to blame your service while having the ability to find and fix what's happening with their Internet connection.
In turn, more members helps us to improve our service while also discovering how else we might be able to help consumers with our free reports. We will of course support members that ask questions in our own forums so you don't have to spend time on that.
It's a win-win situation for you and your members. No costs to your company and nothing to lose but the finger pointing and blame.
If interested, please use the 'reach out to us' link at the bottom of the site.