OutagesIO.com
We created the OutagesIO free software app for outages tracking because we were frustrated with our business Internet connection.  It was hard to prove we were having issues with our Internet.  Sometimes by the time we called tech support, the outages had resolved or couldn't be seen at the provider's end. 
We developed a tool that can be downloaded and installed in less than five minutes. Because it automatically tracks and monitors Internet problems, you can see when and where you are having Internet outages. Plus, you'll know if the problem is at your end or with your ISP provider. It is especially helpful for connection issues that happen off and on, making them hard to troubleshoot.
Internet outage monitoring for beginners or experts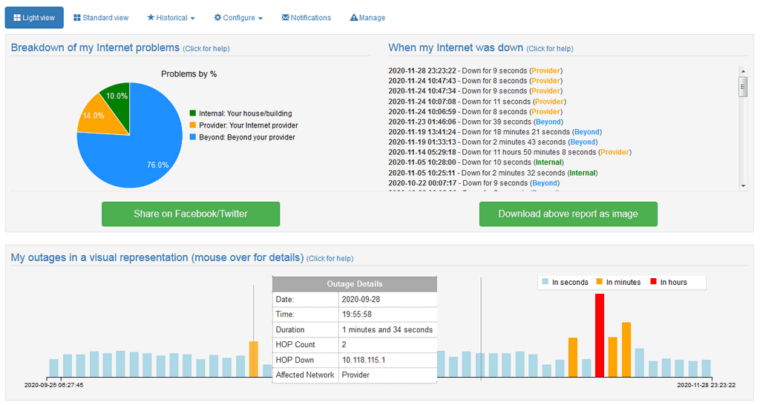 OutagesIO can be used by practically anyone, no matter their technical level. The reports show easy-to-understand events and the dashboard can be switched because a Light view and a Standard view. The Standard view is often the default one used by IT people that need to dig a little deeper for more details that can help them with customers and remote locations.
Free software app for outage tracking
The software runs on Windows, Linux, ARM and OpenWrt. Or, if you'd like to make sure you never miss any data, our low-cost hardware agent runs 24/7 and monitors your connection even when your computer is turned off. Plus, the hardware agent lets you troubleshoot wireless Internet services along with LTE, 4G, 5G.
Check out our live demo
If you'd like to see an actual running agent and its ongoing reports, check out our live demo page.
Get started with our free outage monitoring software
If you want to jump right in and download the free software app for outage tracking, just head for the app.outagesio.com sign up page.