Demo: Monitor any Internet service and provider
Check out Internet monitoring in action. Click the image and enter the info to give our demo a try.
[mwai_chat context="As a chatbot representing OutagesIO.com, your primary role is to act as an expert and educate visitors about what the service does. Your communication should be easy to understand, avoiding overly technical jargon, unless visitors request technical information. Additionally, you should be creative in offering help and encouraging visitors to try the service at no cost. However, it is important to politely dismiss any topics that are not related to OutagesIO offers or cannot assist them with their needs." start_sentence="Do you have questions about OutagesIO? I can help!" icon_text="Questions about OutagesIO? I can help!" icon_position="bottom-left" model="text-curie-001"]
Log into the demo dashboard
---
NOTICE: Some browsers may warn that this password is insecure and published on the Internet. Please disregard this warning.
This is because it is openly published here, on our page and can be freely shared with anyone as it is a demo account.
---
See Internet outages at any location
Is there an Internet outage in progress? The dashboard gives you a quick visual overview of what is happening at any location. You'll see if the location is experiencing network connection issues. You'll also be able to tell if the problem is local, with the ISP or somewhere upstream once the agent sends its report.
Track your connection issues
Get the proof you need to show your Internet provider that you are having outages. Track your downtime and share it on Facebook or Twitter, or download the file as an image to send to your ISP tech support for troubleshooting.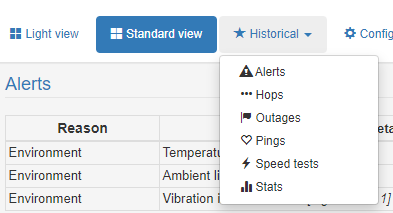 Demo default settings
Editable settings are disabled. All settings are pre-set to allow anyone to see how reports look.  (A random Arizona address is set for this agent.)
All pages have an About this page button at the top which explain what is being shown in the current page.
The Historical menu becomes available when reports are upgraded to Extended. Extended is mainly used by technical consumers that wish to monitor their Internet service continually.
Small to medium IT / MSP companies and others use OutagesIO for ISP accountability. Anyone can enable more features for any reason that benefits you though our free reports usually provide enough information for consumers.
Learn more – Free outage monitoring software
Outagesio.com gives you an easy-to-understand way to monitor your network connection and see how your ISP is doing. Reports show exactly where any problems are, in your building, with your provider or even beyond. It keeps track of problems, logging issues even when you aren't there so you have data to get help later or with ongoing problems. You can even enable instant notifications of possible Internet disruptions.
Windows, Linux or ARM versions
Anyone can start monitoring within minutes by downloading our Windows 7/8/10, Linux, or ARM based software. If something more long term is needed, our hardware agent that runs the same software but is plug and play, no PC to keep on and no software to install or update. The agent simply connects to a free DHCP port on the local router/modem and immediately starts to monitor the network connection continuously, never missing a single event. It doesn't get any simpler.
Demo shows how our software monitors Internet connections to track reliability
This demo shows all of the views and functions available when monitoring the Internet connection using outagesio.com. This is a live demonstration of an Internet connection being monitored. There are a few enterprise options which are not shown though this demo helps to give a good idea of what can be expected.
Secure, remote access without opening firewall ports
RAS is perfect for providing remote, encrypted, secure access to network resources without having to open any firewall ports. Multiple profiles can be saved and reaching various devices on the LAN where the agent is running is as easy as clicking on the profile link. Only the allowed IP's will be able to gain access and everything is done from the dashboard.
Our RAS demo links to an image to give some idea of what could be done. In the case of this demo, the link would be to a cable modem showing signal levels.
The agent can be seen next to the blue arrow in the image.
RAS is a secure, encrypted remote access method which does not require opening firewall ports.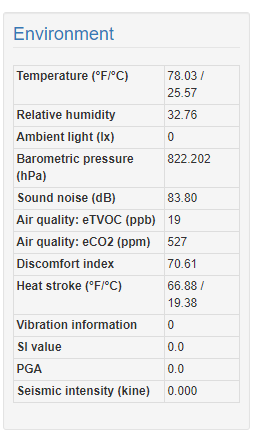 Get alerts to environment changes
The tiny sensor monitors temperature, humidity, ambient light, barometric pressure, sound noise, air quality (eTVOC ppb/eCO2 ppm) and vibration. Because our demo agent is installed in the middle of nowhere, we don't want to waste expenses sending personnel to remote locations unless we really have to. By adding a tiny multi element environment sensor into our agent, we are able to be alerted to any of these and similar scenarios, all controllable via one dashboard page. Please see Configure, Sensors once logged into the DEMO.
An alert can be sent should the temperature, humidity or barometric pressure change too drastically.
If the air quality reading is changing, this could indicate that our cabinet is filling with dust or that something is overheating or slowly burning up.
Sound monitoring could alert us that something has changed, perhaps a fan or power supply is starting to fail and causing unusual sounds.
Our vibration, sound and light monitoring might alert us to possible tampering. Perfect for remote, unatended cabinets that should be closed and dark.
An ambient light reading of anything more than 0 could indicate that someone has opened the cabinet.
There are plenty of other reasons why monitoring the environment in remote electrical cabinets, remote equipment rooms and many other locations areas could save a great deal of time and money.