How to find your software or hardware Agent ID
Upgrade to Extended Reports or Organization Reports
Whether you are using our free Community software for Internet monitoring or our hardware agent, you may want to upgrade to Extended Reports for more detailed Internet outage tracking or details about Internet downtime.  Upgrading is simple, but you need to know your existing Agent ID to make sure you keep all the existing data outagesio.com has about your Internet connection.


Here are 4 easy ways to find your Agent ID:
Hardware Agent
1.  If you have an outagesio.com hardware agent, the Agent ID should be on a small sticker on the side of the device.  In this example, the Agent ID would be 31826.  Copy that number down and enter it in the Agent ID checkout field when you purchase your upgrade.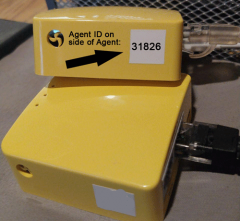 Web Address
2.  Another way to find your Agent ID is to log into your Control Panel.  You'll see the Agent ID in the web address of your browser as soon as you log in.  You can  see the Agent ID number at the end of the address.  In this example, the Agent ID would be 31826.

Control Panel
3.  When you are logged Control Panel.  you will see the Agent ID at the top left of the screen:

4.  It is also in the right sidebar under "At a glance" right below Agent Details: